Judith was an incredible teacher. Her passion and joy for teaching was contagious. She was so supportive and helpful with our class. If I was to go back to school or do more workshops, I would hope to have her as an instructor and mentor again, or have someone just as enthusiastic about helping others.Thank you for everything Judith!
Sarah M, Nov 2017
'Judith is really a wonderful teacher and brought a fun atmosphere while we were learning. I enjoyed her very much and look forward to another class with her.'
'I found Judith to be extremely warm welcoming, open, supportive, relatable, funny and focused. I can see she genuinely cares for her students and is willing to go the extra mile to ensure we all succeed/have all we need for success.'
'I am really enjoying this course so far and I had learned lots of new things.' 'Judith was personable and relatable. I enjoyed her classes.'
'Clear expectations on what needed from students right in the beginning.' 'Clear instructions, to the point very helpful.'
'Love this course- very useful-just wishing it was longer.'
'Judith uses realistic examples about the workplace environments and even interviews much gave me an idea of what is expected from me, how to face situations assertively and how to manage my self-growth.'
'I am so grateful that I took this program because I have learned so much that I thought my knowledge is enough.'
'I truly appreciate Judith's way of communicating, very engaging and informed.
Transition to Workplace May 2017
What I learned from Judith, my energetic teacher, was to have hope for a good job, with fair wages in a tight economy. She provided so many current and relevant resources that will serve me well and I can share with others. Judith taught us about our strengths and weaknesses,how to collaborate and work together and to negotiate the Hidden Job Market….She is so committed to every student's success, economically and inter-personally. AK, EIT Petroleum Engineer, Feb 2016
I am pleased to recommend Ms. Judith McLean to any agency looking for a highly skilled social worker. I found her knowledge of training & coaching to be excellent especially in terms of settlement, clients marketing and finding work for them. She came to class well prepared to teach, executed her lesson effectively and efficiently. while she worked to understand each student's need, she also worked to adjust her teaching to meet those needs, HM, Mechanical Engineer, Feb 2016
'Judith is very enthusiastic and energetic. I appreciate that.'
'I like the "humanized" approach. Emphasis on personal responsibility of each student.'
'Judith is very enthusiastic instructor and helpful. Always encourages the class and gave us good feedback. '
'Instructor is treating her job not like a profession but her passion. We learned so much from this course.'  Culinary Arts Essential Skills Group, Oct 30, 2015
I won't forget all you and your previous team did for me, when I needed the help. Michael Gardner, Jet Champion Canada at Jastram Technologies Ltd. Oct 27, 2015
Thank you again for everything, I have received excellent feedback from your session and have provided your info to a few store managers. Rob Voisin, Vice President, ReStore and Product Support, Habitat for Humanity Canada, Sept 2015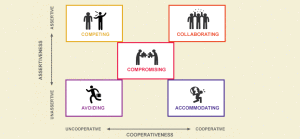 Feedback from March 9, 2015 CUSTOMER SERVICE Course – Never lose another Customer
The ladies were thrilled.  When they came back they were just beaming.  K has been working on her positive personality with great enthusiasm.  B said it was helpful and is using some of what she learned every day.  S was also very excited.  They all loved Judith. The girls found your workshop very interesting and I have heard nothing but good things about you. CH, owner of a building supply company
I would recommend this course because it helped me understand me more and how to understand/read people, Trainee
10 out of 10 on all factors, Change really does need to come from the top down. Judith is very up to date and provides great examples, Trainee
Feedback PRICE WATERHOUSE COOPER, Vancouver Branch
Teambuilding Day with PERSONALITY DIMENSIONS, Jan 28 2015:
You are very relatable and engage the audience. Really enjoyed the presentation. I learned how to leverage the strengths of others.

You did a fantastic job, explained things in a fun way. I learned to involve other colours to solve problems as others think differently in terms of process.

Judith is very knowledgeable. I liked learning how others see us and how to reframe other colours' strengths

Excellent presentation, great style, easy to follow and relate. You kept us on track without making us feel rushed or controlled.

You did great in the time slot.  You adapted to the dynamics of the group – thank you

I liked learning how to better work with my team.
Feedback from RESPECTFUL WORKPLACE workshop, May 23, 2014
Thank you for today, I'm SO glad I went, I really enjoyed it. You have a lovely way about you. So easy to listen to and interact with.
All the people were so nice and DH was a real hoot.
Loved the venue [Royale Peninsula theatre room]. Judith you are very easy to listen to and work with. I highly recommend this most informative session.
I recommend this course as it's informative and reaches the dark corners, and puts light to a dark part of workplaces.
I recommend this course – it was wonderful, informative, meaningfully presented. Judith you are a talented coach and teacher.
Testimonials from Individuals who have Trained with Judith McLean:
Judith is a natural at creating a warm, safe training atmosphere, making people very comfortable in sharing their point of view and interacting with others. I highly recommend this course – you will learn important life skills – M. Day (retired principal, Surrey School District), May 23, 2014
I have come to know and admire Judith McLean through the Transitions program she taught on our reserve. The program was designed to teach native students assertiveness and confidence. I found Judith to be a very inspiring teacher who brought the most quiet person out of their shell. She definitely helped my members find more confidence in themselves. Judith did not just play to role of teacher, she also did a lot of counselling outside of school hours that related to sexual abuse and family violence. She was very well liked by my community. … I admired Judith for finding the time and patience to understand Native culture and in her own unique way, she helped my community appreciate the two worlds. I would recommend Judith.– Kowantco L Shackelly, Nooaitch Chief
Judith was responsible for a wide range of responsibilities during 2003 and 2004, including theory and practice for the Social Service Worker Practice I and Interviewing Skills courses. During the winter semester, Judith supervised three groups of students completing their Field Placements. Judith is well liked and respected by students and is able to work as part of the faculty team. She is responsive when required and has demonstrated that she can work well independently. Judith was able to adapt to the new challenges presented to her quickly and effectively. I am confident that Judith will be an asset to your organization.
– Paul Armstrong, Chair, Health Sciences & Human Services, Mohawk College, 2004
Very interactive, great learning process, fantastic resources, awesome presenter, Judith is an expert.
– Career Opportunities Conference, 2003
The Health Care Labour Adjustment Agency is one element of a partnership between the Ministry of Health for the Province of BC, the Health Employers Association and representatives of major health sector bargaining associations. Our Mission is to support the positive restructuring of the provincial healthcare system by assisting employees to make successful, professional and personal transition to the healthcare industry of tomorrow, within a cooperative framework among the partners in healthcare.
To this end, Ms McLean has worked with enthusiasm and in a collaborative fashion to provide guidance, direction and act as a resource to well over 200 Joint Union/Management Labour Adjustment Committees and numerous individual health care workers seeking information and support in developing training plans. In her role as Training Consultant, she assisted these joint committees at both a local and regional level to develop labour adjustment plans, training proposals and support programs specific to their needs.
Working directly with members of these committees, she also developed and assisted in the utilization of a number of academic assessment tools in support of these training plans and adjustment measures. She has been actively involved in educating and instructing both union and management personnel in the areas of educational assessment and instructional support. In addition, she has assisted the Agency in developing and maintaining excellent working relationships with various Colleges and Universities in the province. Judith's knowledge and expertise from Adult Education and Social Work have made her a valuable asset to the Agency. Her ability to work independently but with a team spirited approach have served our organization and partners well. I would highly recommend Judith McLean.
– Gordon MacDonald, Health Care Labour Adjustment Agency, 2002,
Very passionate re this subject; involved all her students, optimistic, lots of passion, used lots of methods to make it go fast and stay interesting, very empathetic teacher, went out of her way, meaningful examples, confident in her knowledge, kind, personable, very approachable.
– Feedback on instruction on Case Management, Mohawk College, 2005.
I have Prosci Certification in Change Management and I recognize The HUMAN ELEMENT as a natural extension of the change management process because it can reinforce the initial changes identified in the Change Management Process. I am looking forward to working with you, Judith. 
– Fred Adair, M. Ed Principal, Northwest Institute of Technology, 2013
I really appreciated the course.  The way you presented it, was comforting. The way each module flowed towards the next, calmed my ego, and allowed me to accept more of myself. I came away feeling a lot stronger within myself and now have the tools, to assist me in dealing with whatever life presents to me.
– Maggie Hamson, Reiki practitioner, March 2013
We students of Transition think you have done a wonderful job on pulling a lot of us out of our little shells. Into our new budding people who have a voice to be heard in the outside world of technology. With the honour of being one of your students, it's been a privilege to know we are capable of learning what you teach. Keep up the great work! You will always have a place in our thoughts in the future.
– Jim T, Esther S, Twyla E, Gordon J, Dale S, Darlene B, Dee Dee S, Georgina J, Vincent S, Louise A, John W C, Melvina S, Bertha S, Frances S, Rose F, Rosalie D, Jackie S.
As an Executive Board member of a large entertainment sector Union, it is my job to use Conflict Resolution skills in order to assist the over 5000 members of our Organization. In the past number of years, I have taken several courses and seminars to help me with this endeavour. I just completed a 3 day HUMAN ELEMENT course with Judith McLean as the facilitator. This course was a fulfilling and intriguing change from the courses and seminars I have attended in the past. Everyone was engaged throughout the three days due, in very large part, to Judith who was able to bring the material to an alive and personally relevant level. Judith was able to keep the class on an even 'keel' throughout and still let us tell our 'stories'.  The material is as relevant now as it was when it was first used … and any organization or group would benefit from people having this course as a mainstay in their 'tool box' of employee aids and using Judith as the provider would enhance that organization a great deal.
– Dee Embree, IATSE, March 2013
Judith, Thank you for your professionalism, you were wonderful. There was no low point. Coming up with our own Vision statement was paramount. I felt very comfortable and safe.
–TS, 2013
Judith, Thank you for having empowered me to be more patient and understanding toward other people's behaviour.
–WM, 2013
Judith was the best instructor in VCC's Leadership program. Her in-depth knowledge of adult education keeps everyone engaged. She created ownership in personal development and stimulated my personal growth. Really enjoyed the class. 
-TM, 2012
I really enjoyed your class. There have been some courses that we took before your class that I felt had no substance. I really feel I learned how to prepare a lesson plan. Thanks. I appreciated the depth in which you presented the content and your thoroughness when presenting a new idea. You come across as a sincere and genuine person who is very approachable. It brings you further into your learner's world.
– J Michele G, UFV course Life Skills Coaching
Judith worked at Douglas College as a programmer for Continuing Education Social Services Programs. … She demonstrated both management and communication skills on a day to day basis. Her ability to assess and analyze and then to innovate has enabled her to make a significant contribution to Douglas College. While making changes she has been effective in balancing anticipated gains against possible risks. I have no hesitation in recommending Judith McLean most highly…
–James H Doerr, Dean, Community Programs and Services
Important things learned by Judith's students in Interpersonal Skills class, 2013
Acknowledge others' ideas
Need to be aware of others' conflict styles for different situations
I can improve my own esteem
We can work on our weaknesses by no longer denying them
How negative feedback can be helpful
How to give feedback without upset
Ways to evaluate others' performance
Self-management through conflict
Resolving conflicts leads to creativity and better relationship rapport
List of sites served by Judith's consulting services:
BC Ministry of Social Services – Cultural Competency curriculum and trainer training
BC Ministry of Advanced Education, Training & technology – Transition curriculum for First Nations access to post secondary training
Open Learning Agency, BC Self Esteem Community Project
University College of the Fraser Valley – Values, beliefs and priorities for Conference
King Training Centre – Team building
Abbotsford School District – Custodian training in communications
Vancouver School Board, Family Services of Greater Vancouver – Life Skills workshops
Abbotsford Matsqui Association for Healthy Aging – Elder Abuse Project
Canadian Mental Health Association, BC Division, Self Esteem and Mental Health at national conference.
Thanks again for an enjoyable and highly educational course,
-JR, 2004
It was a real pleasure to have you as a teacher. Your expertise and enthusiasm inspire me to want to learn more and read on.
-KB, St George, 2004
Once again, your class was fabulous!  I feel inspired and confident that I have made the right decision in going into this field.  It feels great to have a goal and be excited about the future!
-JL, 2004